So, you think you can pique my interest? Do try. Tell me your kinks? Go on, tell me all about the BDSM NYC will soon play host to. Good communication is paramount, so peruse my various specialties below. Give me a reason to turn my voracious appetite to you. I know many Dommes who can join us for kink sessions in NYC (or elsewhere).  I am also happy to engage in a FMTY, so don't limit your imagination.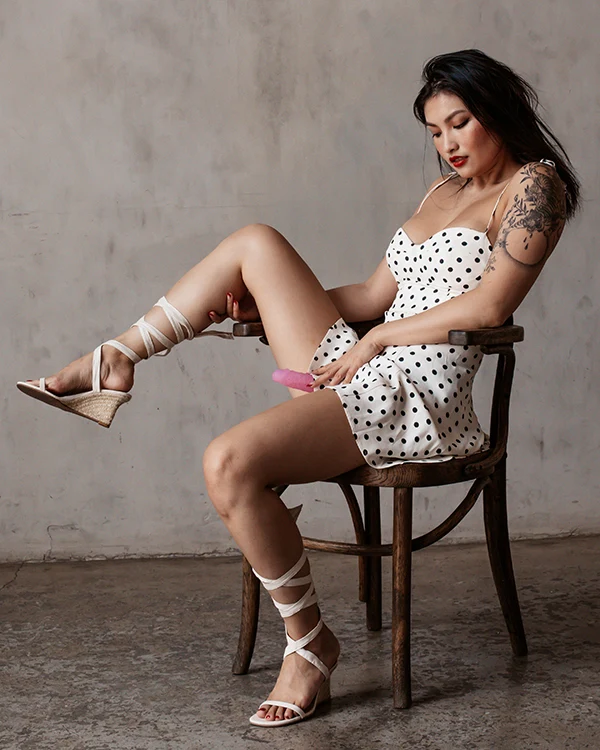 Below is a list of my favorite ways to play – don't be shy inquiring about other kinks and fetishes you may be into. If you're a first-timer, I require a minimum of 1.5 hrs. For a more fulfilling experience, I recommend as much time as you can spare. I do loathe holding my talents back for the sake of time.
While together, you will have my full attention. While apart, my assistant Vesper responds to requests within 24-48 hrs.
Impact Play
Wax Play
Corporal Punishment
CBT
Sensual Domination
Orgasm Training/Denial
Bondage/Restraints
Golden Shower
Needle Play
Knife Play
Sounding
Edging
Body Worship
Chastity
Pegging & Anal Play
Blackmail
Mindfuck
Human Furniture
Humiliation / Degradation
Cuckolding
Edge Play
Feminization / Sissification
Forced Bi
Hypnosis
Roleplay
TPE
FinDom
Training
Discreet Public Play
Digital Domination
Starts at $600 / hr. Minimum 1.5hrs for first timers
Starts at $600 / hr with travel expenses and time covered
Located at private dungeons in Manhattan
$200 flat – calls included for future session bookings
Complicated scenes and couples will incur a customized upcharge.
Requests within 12 hours will have an expediting fee of $200 / hr and an additional $400 / hr if within 3 hours.
$6.5k / 12 hrs
overnights must include 7 hrs of sleep
Please confirm your session with a 20% deposit according to one of my payment methods which will be provided upon successful verification. Leave the description field blank when sending any digital payments.
I require at least 48 hours notice for cancellations for your deposit to be used as credit for a future session. Dungeon rental will need to be covered by you in any cancellation.
If you cancel without the 48 hr notice, I require the full session tribute to be compensated for my time.
If you have too many last minute cancellations, it will be up to my discretion if I'm interested in continuing to see you or negotiate a fitting exchange to compensate for my expectations.
I rent space at all the major dungeons in NYC, specifically in Manhattan and Brooklyn. Incalls will always be at my preferred dungeon location in Manhattan, unless otherwise specified. 
I do not see subs for outcalls for the first session.
For outcalls, I require 5 star hotels in either Manhattan and Brooklyn. 
Let me be your digital domme and video vixen.
We're living in a unique moment in history where physical boundaries no longer limit the imagination. The internet and online space are new frontiers of Domination. 
Now, you have access to an exquisite Asian domme like never before. And I have new and torturous ways to dominate you. I have a specific fetish for information: social media accounts, passwords, watching you through cameras, controlling your phone, etc. If that's something that makes you curious, inquire about Digital Surveillance.
If you're a fan but not ready to take the leap to in person BDSM sessions yet, subscribe to my fansites and binge my clip content to become a loyal follower. Digital sessions, sexting, and other packages are also available. If we are already familiar, you know what having a dominatrix at your fingertips can do to you…
Password required for access.
Passwords are a privilege and must be earned.
Good subs will receive if I so choose to bestow. DO NOT ASK.